SYQEL vs. MilkDrop (Winamp Plugin): Simple and Calming vs. Complicated and Irritating
SYQEL and MilkDrop were meant to give you access to visuals for your performance. But while the SYQEL music visualizer app uses AI to generate visuals for you, with no complicated interface to learn, MilkDrop is a difficult-to-use plugin that takes a lot of time and patience to really take advantage of.
SYQEL vs. Milkdrop and Winamp: Fast and Simple Feature Comparison
Feature
Winamp and MilkDrop
Software Compatibility
Windows/Mac
Windows
Software Setup Time
5 minutes
Several hours for install and interface learning
Visual Set Design Time
0 minutes. SYQEL generates visuals in the moment.
Load and edit presets for visual set with shaders
Livestreaming Connectivity
Twitch, YouTube, Facebook, OBS, Twitter
OBS, Spotify, Twitch
Visual Quality
8K ready
4K ready
Number of Included Visuals/Transitions
50,000+
50,000+
Audio Input Source
Any
From PC sound card
Visual automation
Always
Manually transition visuals using keyboard commands
Audio Freedom
Change your audio set at any time, SYQEL reacts.
Live input from streaming service, or uploaded songs
Price
$299

Lifetime Software License

Standard with Microsoft PC

s
Want to try it? Get your free SYQEL account and visualize music now!
SYQEL vs. MilkDrop (via Winamp):
An In-Depth Feature Comparison
---
MilkDrop is an open-source "plugin" for Winamp – it requires more computer skills and patience to use. It is a complicated piece of software that will leave many VJs frustrated.
Software Compatibility
SYQEL can be downloaded as a desktop app on Windows/Mac. There are very few system requirements to use the app. It can also act as a web-based app, so you can generate visuals online and off. SYQEL can be set up so that it receives any audio source: a desktop, a microphone, you name it. This means that you can use any form of audio DJing equipment you own (or will own). The app can also be connected to your Twitch, YouTube, and Facebook accounts for livestreams using your own personal DJ URL.

The Winamp music visualizer plugin, MilkDrop (now MilkDrop2) requires the installation of Winamp with the MilkDrop plugin. You have to extract the files into correct locations and keep naming conventions or risk your preset configurations not working. MilkDrop allows you to use your keyboard only, foregoing cursor usage and requiring you to memorize several command shortcuts. You have to have the correct drivers for your video card, and the right sound card so that MilkDrop can receive input. Essentially, MilkDrop requires you to take a great deal of care when installing and using it. And if something goes wrong, good luck with the documentation – if you don't understand line code, you will get nowhere fast.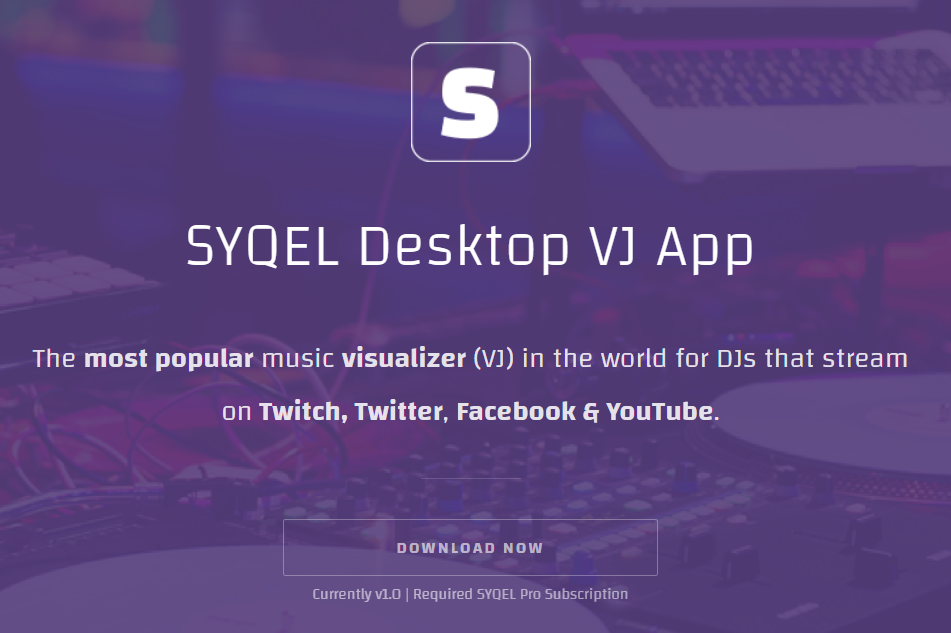 Time Spent Setting Up and Using Software
After initially installing MilkDrop, you have to troubleshoot any problems (which may be as simple as you not playing music before launching the app, and as complicated as needing to update a driver or create a virtual cable for audio input.) You must configure the settings to make sure the correct audio source is being read. You definitely have to create a virtual cable if you want to use a DJ controller with MilkDrop. You have to install and sift through several presets to find ones you like, then save them in the proper locations (if you don't, they won't be saved).

With SYQEL, there is no complicated interface you need to learn. You just download the software on your PC. Choose your audio input (laptop, microphone, whatever you choose) from your online account and open the desktop app. The app immediately starts generating visuals (like to one pictured on the right.) Modify the framerate, visual duration, and transition times. Modify your set and SYQEL will adjust automatically. It takes 5 minutes to set up and start using SYQEL.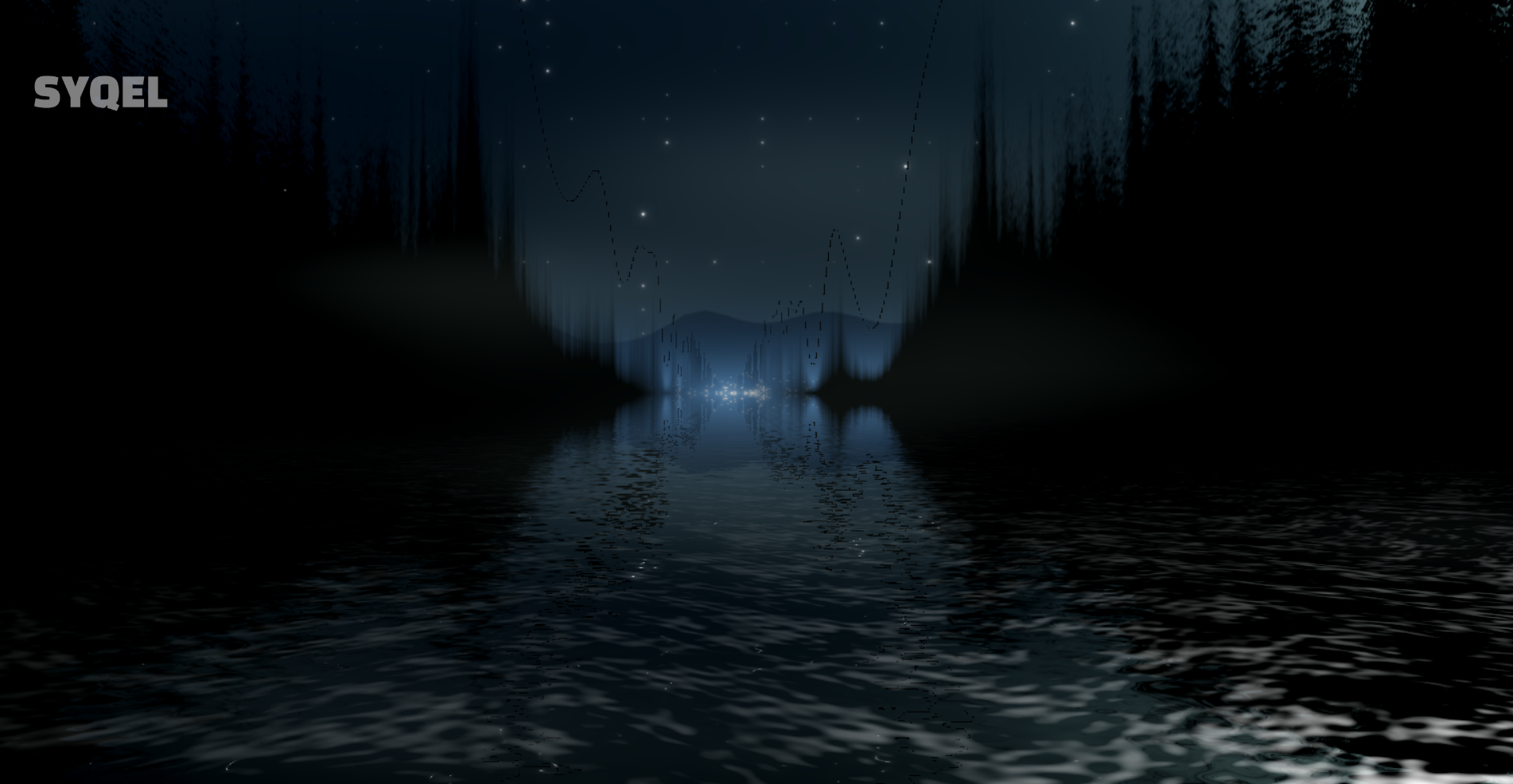 Ease of Software Usage
SYQEL uses the power of AI to automatically react to any designated audio input and generate visuals for you in real time (like the visual pictured on the left.) You don't have to think about managing visuals at all. The SYQEL app does all the work of creation, so it's very easy to use.

MilkDrop visuals are accessed using keys on the keyboard, and a number of memorized shortcuts. The interface is hard to read through, and the open-source software is known for having issues. Editing and using presets is just short of, or completely leaning on, full-blown C++ coding and shader graphics.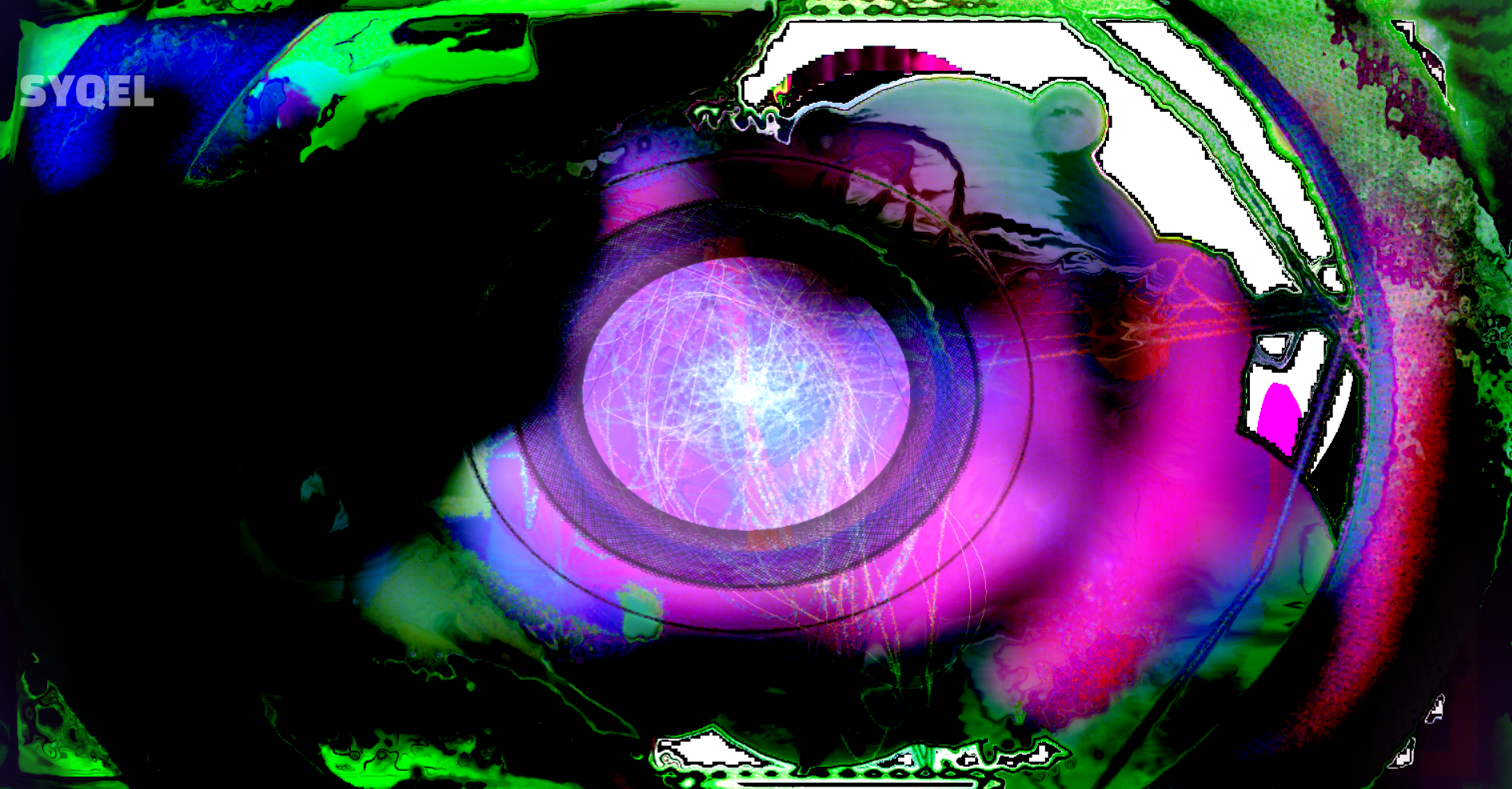 Visual Media Generation
SYQEL uses the power of AI to automatically react to any designated audio input and generate visuals for you in real time. The SYQEL app does all the work of creation, so it's very easy to use.

MilkDrop visuals are loaded into its interface (pictured right). You must choose which ones you want to use. You must manually switch between them, or put on a randomizer. The transitions are gradual. You have the option to edit visuals, but this requires some coding knowledge.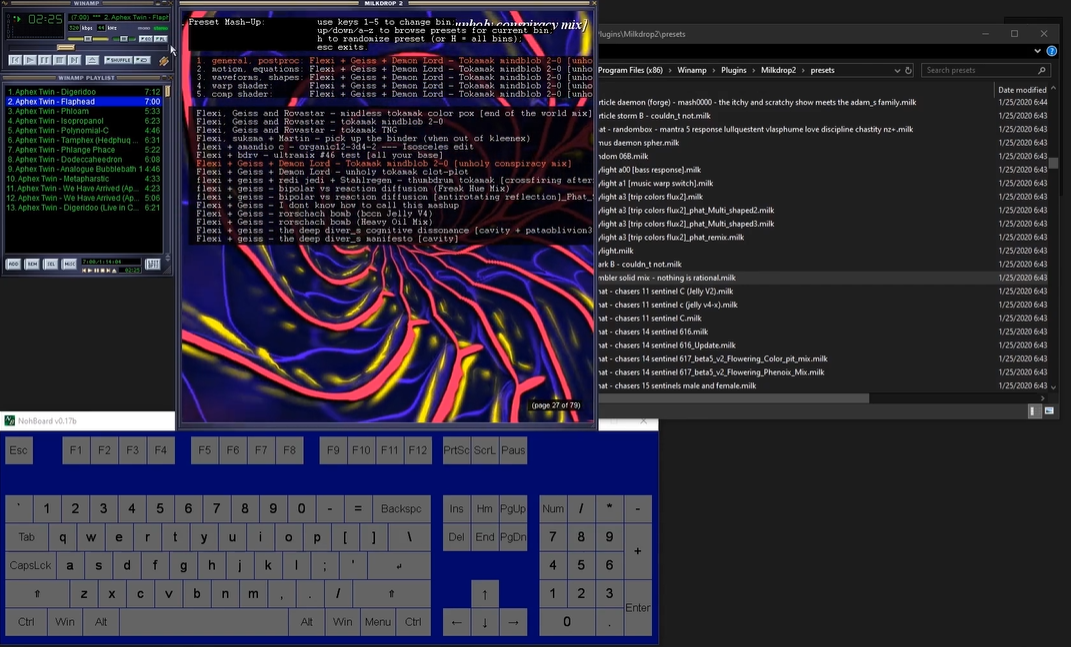 Learning Curve and Fine-Tuning Visuals
It is well-known within the MilkDrop-user community that deviating from presets at all is known as "going down the rabbit hole." There are mounds of user added documentation and Reddit forums dedicated to asking questions, finding workarounds, and not really getting results without somehow damaging the MilkDrop.

To make visually pleasing and worthwhile visual content with Virtual DJ, you would have to find, install, and learn how to use several content samples, transitions, and effects. You would also have to be on top of mixing visuals throughout your show.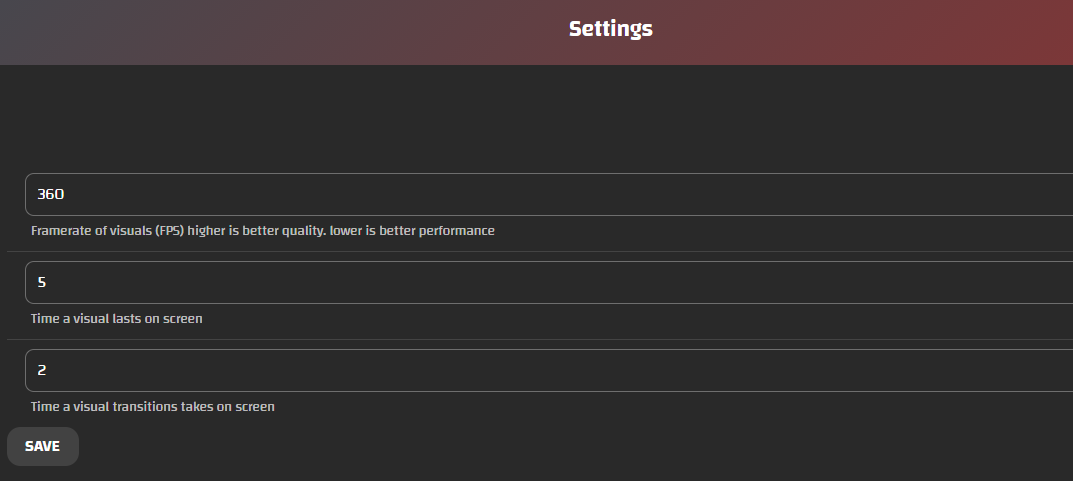 "Free and open-source" sounds nice. Until you actually start using the product.
Winamp and MilkDrop are free, open-source products, which sounds nice on the surface. But you pay in other ways: most notably, your time and emotional wellbeing. But a SYQEL Lifetime License ($299) that creates visuals like this automatically, with no work on your part? It's a one-time purchase that will be worth it for years to come.
We also have monthly plans starting at $9/month, if $299 is not in the budget right now.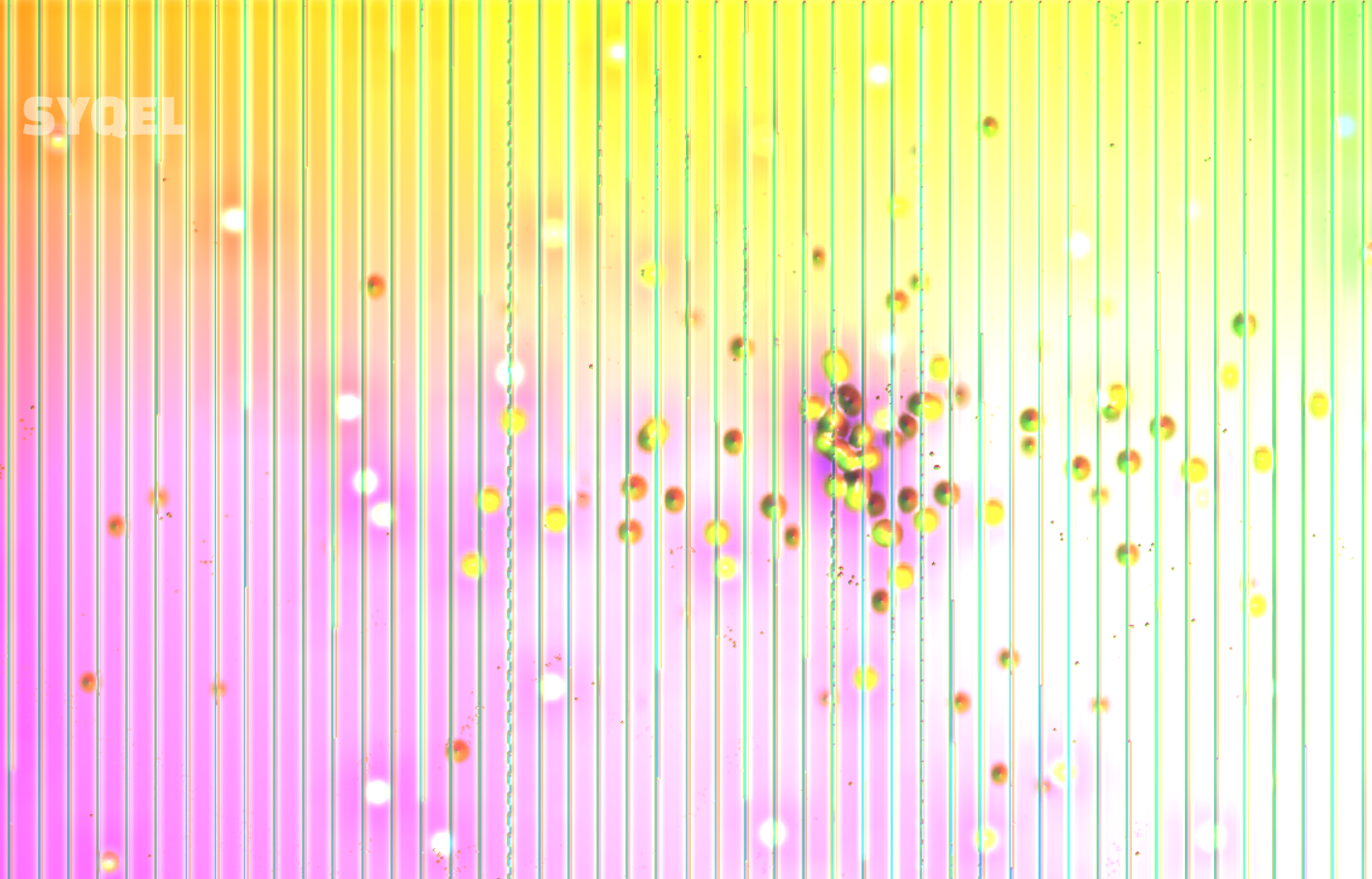 It all comes down to how much time and patience you have.
You didn't get into DJing to become a coder. You didn't want to get into VJing to spend all your time learning how to use software – you just wanted visuals to heighten the music experience, right? If you want to start generating visuals now, without being driven up a wall, then SYQEL is worth the money.
---
visualize your music with syqel. start now for free.
If you're a "see it to believe it" person, this high-quality SYQEL music visualization is for you: