SYQEL vs. Synesthesia: Simple and High-Quality vs. Glitchy and Generic
The SYQEL and Synesthesia music visualizer apps both aim to use AI to react to your audio and produce visuals. But with Synesthesia, you still have to build/modify scenes with a limited number of visuals. Synesthesia also does not function very well in general. SYQEL is able to produce 50,000+ visuals automatically. All you have to do is download SYQEL, and it immediately starts visualizing music, with no problems.
SYQEL vs. Synesthesia: A Very Fast and Simple Feature Comparison
Feature
Software Compatibility
Windows/Mac
Windows/Mac
Software Setup Time
5 minutes
Several hours to optimize and diagnose system issues
Visual Set Design Time
0 minutes. SYQEL generates visuals in the moment.
Must modify scenes for better quality visuals
Livestreaming Connectivity
Twitch, YouTube, Facebook, OBS, Twitter
OBS
Visual Quality
8K ready
4K with Pro License (lesser licenses at 1920×1080)
Number of Included Visuals
50,000+
78 as of 2021
Transition Capabilities
SYQEL transitions just as much as your music does
Currently, only manual fade to black to change visuals
Audio Input Source
Any
Laptop audio microphone, limited audio interfaces
Visual automation
Always
Must manually modify and transition scenes
System Requirements
All visuals are ready-made and responsive
Some scenes unusable due to GPU limitations in PC
Price
$299

Lifetime Software License

$299

Pro License
Want to try it? Get your free SYQEL account and visualize music now!
SYQEL vs. Synesthesia:
An In-Depth Feature Comparison
Which product has the qualities of a good VJ software? Which one best suits your needs?
Software Compatibility
SYQEL can be downloaded as a desktop app on Windows/Mac. There are very few system requirements to use the app. It can also act as a web-based app. SYQEL can be set up so that it receives any audio source: a desktop, a microphone, you name it. The app can be connected to your Twitch, YouTube, and Facebook accounts for livestreams using your own personal DJ URL.

Synesthesia software can be downloaded on Windows/Mac. You need a high GPU for Synesthesia to run properly. Computationally intense visual scenes may not appear on your screen/projector at all, and you risk breaking the immersive experience your listeners are in. If you change your computer's audio/visual hardware state, saved settings can be corrupted. This means that you would have to go through the process of manually backing up settings files, then deleting your preferences one by one to find the corrupted file. For macOS users, if the visualizer crashes, you have to change your system's settings. Windows users must keep their C++ libraries aligned with whatever Synesthesia is using, or an error will be thrown. You also must have your laptop plugged in at all times, or Synesthesia will stop working altogether. Essentially, you must have an in-depth knowledge of your system's setup, and the willingness to go through data storage and coding hurdles, to use Synesthesia long-term.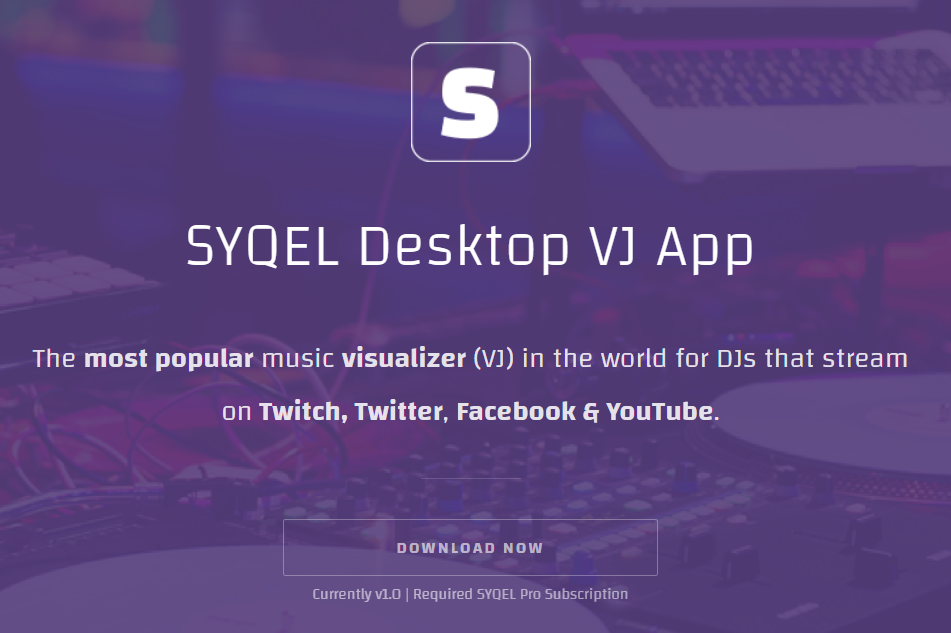 Time Spent Setting Up and Using Software
With SYQEL, you just download the software on your PC. Choose your audio input (laptop, microphone, whatever you choose) from your online account and open the desktop app. The app immediately starts visualizing. Modify the framerate, visual duration, and transition times. Modify your set and SYQEL will adjust automatically. It takes 5 minutes to set up and start using SYQEL.

When working with Synesthesia, you have to first adjust your settings and preset features. Then, you have three options: edit a limited number of generic sample scenes (78 total as of 2021), code your own using OpenGL Shading Language, or source your own media. You can use a limited number of toggle buttons and intensity level slides to vary visuals in real time. But you would most have to build a visual set before you could modify visuals, or risk losing viewer attention by playing the same scene for a long time.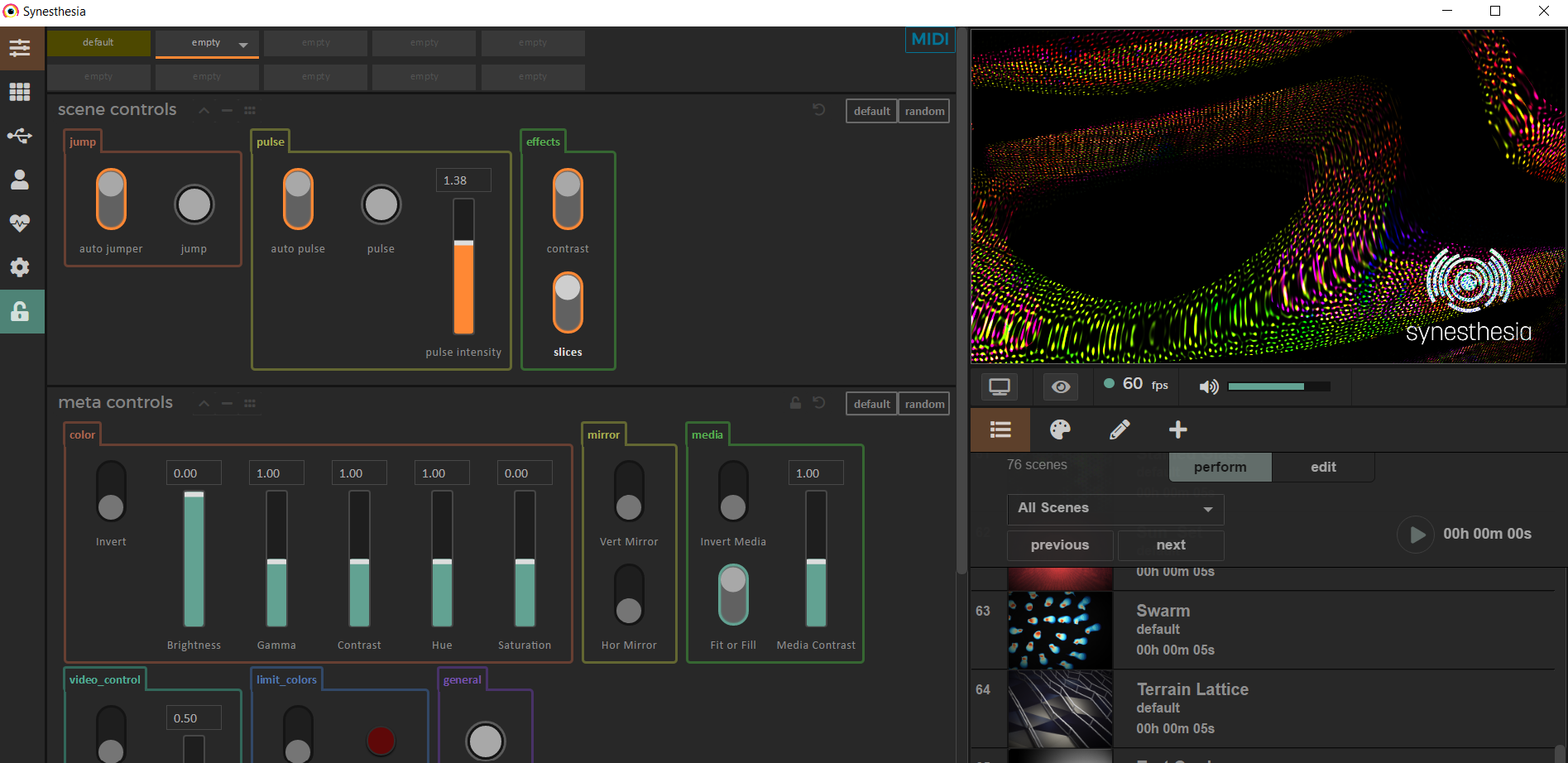 Ease of Software Usage
SYQEL uses the power of AI to automatically react to any designated audio input and generate visuals for you in real time (like the visual pictured on the left.) The SYQEL app does all the work of creation, so it's very easy to use.

Synesthesia is a somewhat fragile software, as there are many ways for it to crash, and then you have to go into a full-blown investigation to figure out the problem. Many problems are due to file corruption or your computer's setup. If you do not have a strong knowledge of coding and your computer's setup, you will run into problems when using Synesthesia.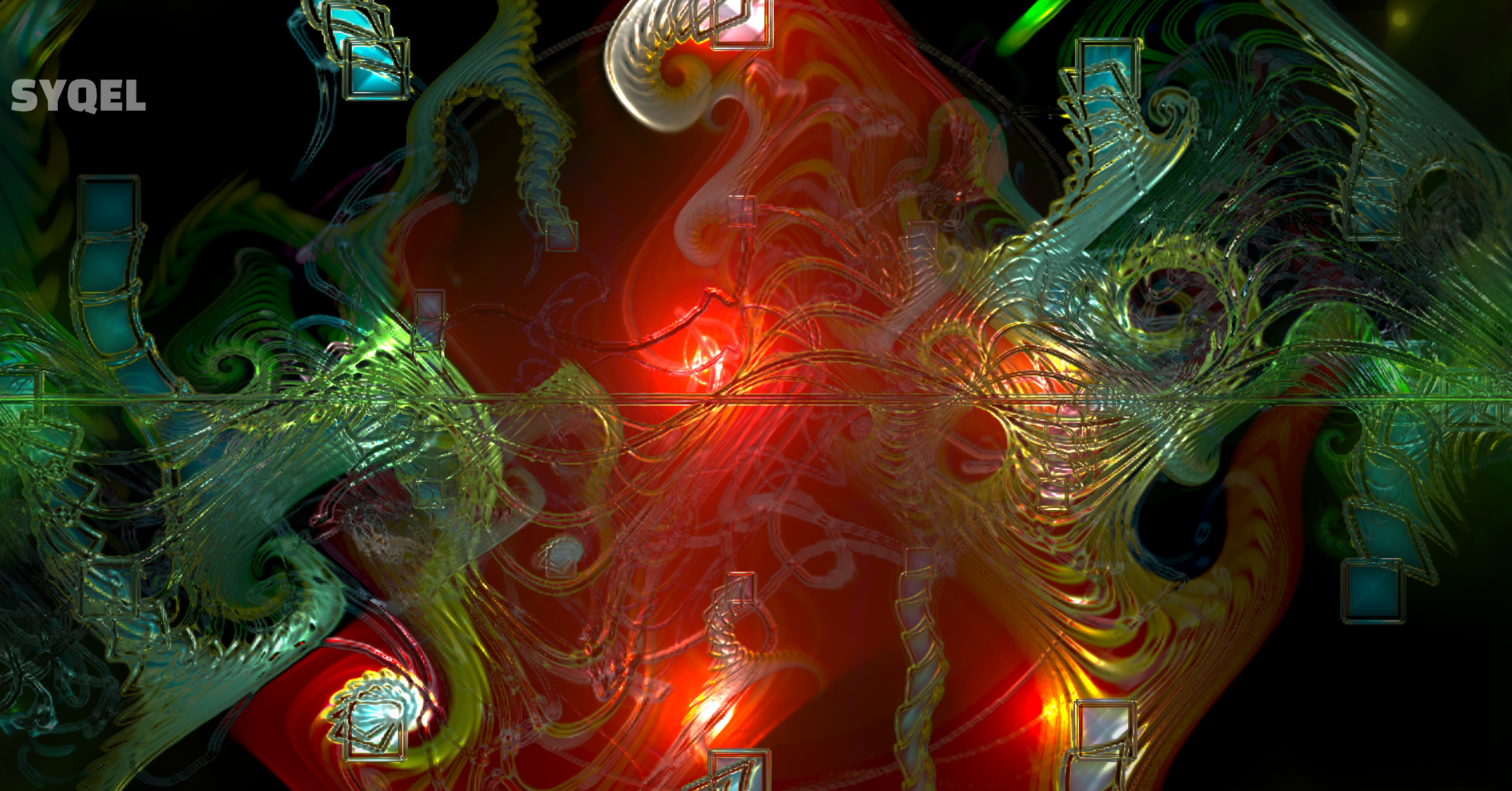 Visual Media Generation
SYQEL is preloaded with over 50,000 8K ready visuals and 120+ moods to choose from. Set your framerate, visual duration, and transition duration on your online account. A higher framerate creates sharper quality visuals, while a lower framerate promotes better performance on the part of your desktop. Since SYQEL's visuals are preloaded and audio-reactive, you do not need to source visuals or so any visual set up before a show. You also have complete freedom to vary your set in the moment, as SYQEL is not tied to any specific audio ordering.

Synesthesia only has 78 ready-made visual scenes that you can modify. Depending on your computer's computational power, you may not even be able to use some of these. The software allows you to add in your own videos/images, but this requires sourcing your own materials (and worrying about copyright laws.) If you want to create more original, interesting scenes, you have to code them using GLSL.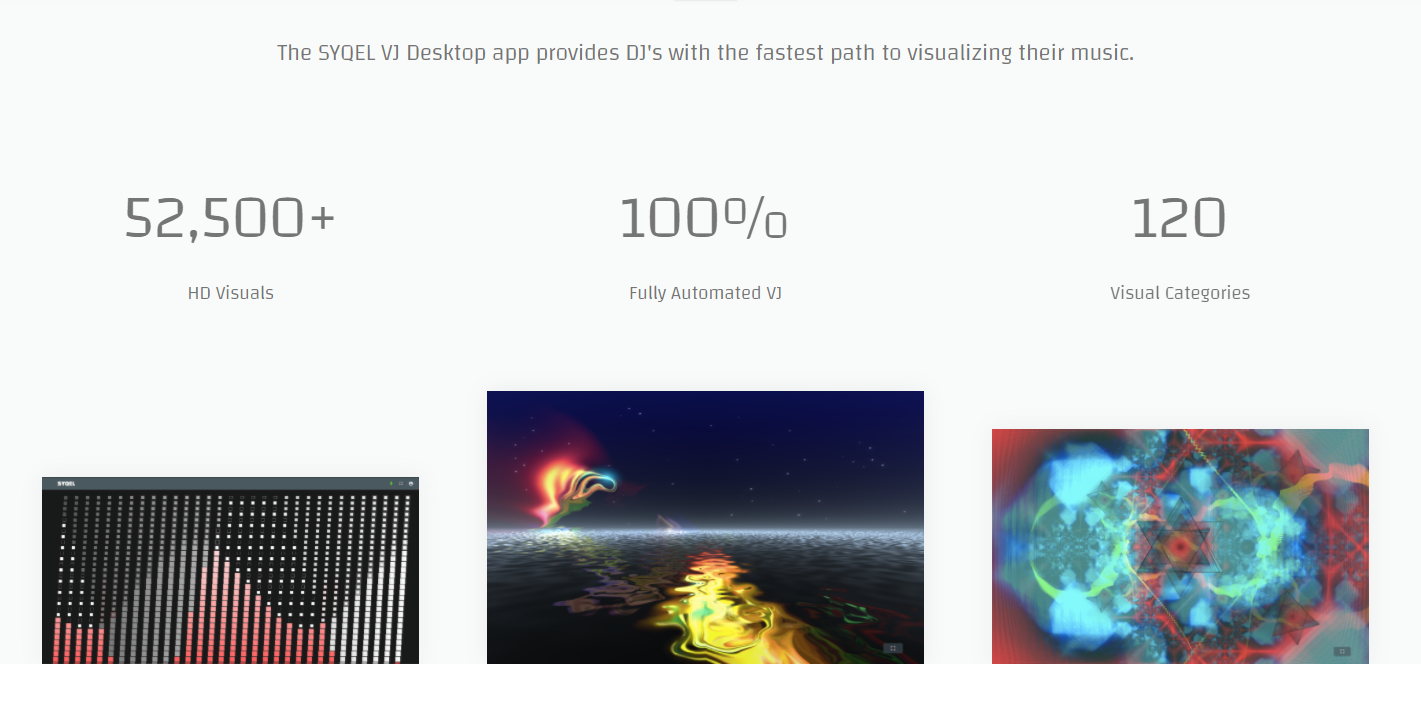 Learning Curve and Fine-Tuning Visuals
If you want to make Synesthesia look even remotely professional, you will have to spend a long time configuring your account settings. You will also have to get decent at coding to create anything as aesthetically pleasing as SYQEL's visual productions. You also have to keep in mind the computational power of your device, and only use scenes that can perform on your device.

SYQEL requires no training, as machine learning has, in a sense, learned how to perfectly compose visuals for you. The only "fine-tuning" you have to do is choosing how long a visual stays on-screen, and how long it takes to change to the next. You can also choose your mood, but otherwise, you're good to go.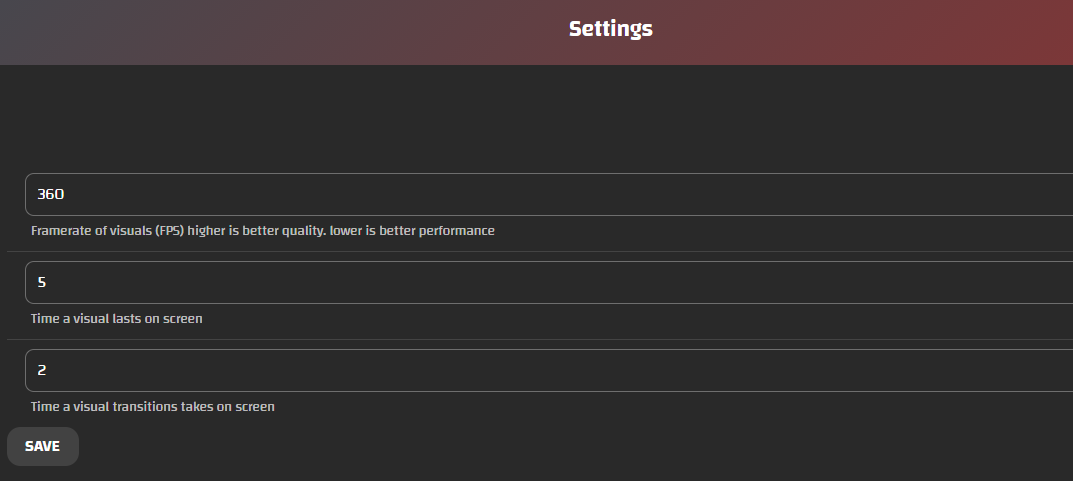 $299
8K visuals
50,000+ visuals/transitions
Completely automated
Reliable software
Minimal system requirements
$299
4K visuals (max)
78 premade visuals
1 manual transition type
Frustrating/prone to crashing
Several system requirements
In this case, it really comes down to value.
Can you really stand to pay for glitchy software that creates generic visuals? Can you really pass up the opportunity to spend the same amount of money on a music visualizer with a much higher production value? Can you really pass up the opportunity to completely automate your visuals, with no learning curve and no need to code at all? If you're looking to add high-value visuals to your show, with a low level of effort, SYQEL is the music visualizer for you.
---
visualize your music with syqel. start now for free.
If you're a "see it to believe it" kind of person, this high-quality SYQEL music visualization is for you: